Georgia to have reshuffled government in two weeks
By Ana Robakidze
Friday, May 1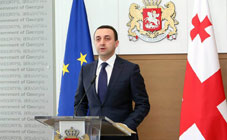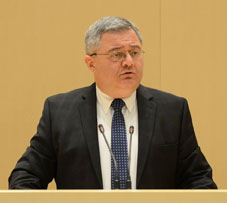 The President of Georgia has a week to present a new cabinet to Parliament. Levan Khipiani, Minister of Sports and Youth affairs was the seventh minister to leave his post, which automatically dissolved the cabinet, as 1/3 of its members had changed. According to the Constitution 20 member cabinet needs to gain Parliament's confidence once again.
Parliament has a week to hold consultations and approve the government.
On April 29 Prime Minister Irakli Gharibashvili spoke about the possible changes in the cabinet and said his government will have only two new members. He also addressed the President with a query to complete the necessary procedures and present the new cabinet as soon as possible.
The Prime Minister has not yet presented replacement candidates. However, Deputy Interior Minister, Archil Talakvadze, is said to replace Kipiani, while deputy head of the PM's administration Nino Kobakhidze is rumoured to become a new minister of Environment.
Parliament Speaker Davit Usupashvili tried to clarify the legal issues related to the current status of the government. He said that the current cabinet is equally legitimate as it was a week ago.
"I can assure you that according to both the Constitution and Georgian law, the country now has a government as legitimate as it had two days, or even two years ago…the current legislation does not recognize the notion of incomplete, semi-authorized or unauthorized government," Usupashvili said, while speaking to media after his meeting with the President of the Senate of the Netherlands on April 30. According to Usupashvili, the Cabinet maintains parliamentary confidence until the confidence vote takes place.
The Environmental Minister resigned on April 28 and the Minister of Sports on April 29, as well as the Minister of Infrastructure Minister being replaced by Nodar Javakhishvili a week earlier. Therefore, the number of cabinet members, which has undergone several changes since it last gained the confidence vote in July 2014, reached seven.
The government needs to receive 76 votes to gain the confidence vote. The Georgian Dream Coalition, which holds the majority in the Parliamentary, is confident that Gharibashvili's Cabinet will not face any problems in receive necessary votes.