Georgian teenager dies as Russian border guards do not let him through Enguri check-point
By Ana Robakidze
Wednesday, May 6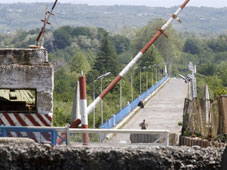 A thirteen year old Georgian boy died on May 4 after Russian occupation forces did not allow the boy's family to transfer him to the Georgia-controlled territory of Samegrelo to get him vital medical treatment.
Irakli Tsaava, who lived in Bargebi village, in Russia controlled Gali district Abkhazia, and was seriously ill. The Tsaava family wanted to transfer the child to a Zugdidi hospital, only to be stopped at the de-facto border between occupied region of Abkhazia and Georgia, where Russian border guards requested special documents approved by Abkhazia's "Federal Security Service" (FSB) or pay a bribe of 500 GEL. The Tsaava family did not posses either enough money or the requested documents. Tssava was unable to receive the necessary medical treatment in his village and eventually passed away on May 4.
The Ministry of Foreign Affairs of Georgia (MFA) released an official statement on May 5 and condemned the illegal actions of the Russian guards in the occupied region.
"The Ministry of Foreign Affairs of Georgia calls on the Russian Federation as the power exercising effective control over the occupied regions Abkhazia and South Ossetia, to respect the fundamental human rights of the people living in the occupied territories and not to politicize humanitarian issues," MFA said in the statement.
The statement says despite the fact that Georgia, as well as the international community, are constantly calling on the Russian side to desist in violating human rights in the occupied regions of Georgia, the occupation forces continue their unlawful actions in the regions creating devastating humanitarian conditions.
The news about Tsaava's death was first spread by the apsny.ge online news agency and later confirmed by Otar Gogokhia, head of the Representation Office of the Autonomous Republic of Abkhazia in Samegrelo-Zemo Svaneti region.
After being banned from crossing the checkpoint at the Enguri river, the devastated family tried bypass the border, but Tsaava died on the way into Georgian controlled territory.