Minister of Defence visited Special Operations Forces
Friday, May 15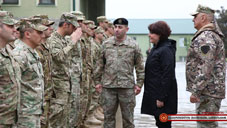 The Minister of Defence of Georgia, Tinatin Khidasehli, visited the base of the Special Operation Forces (SOF). Chief of the General Staff of the Georgian Armed Forces Major-General Vakhtang Kapanadze and Commander of the SOF LTC Dimitri Kiknadze greeted the Minister at the military base. The SOF Commander showed the Minister displayed military equipment and presented the informational briefing on the SOF.
Mrs. Tinatin Khidasheli familiarized herself with the training and working conditions of the military servicemen. She took a look of at the classes, living rooms and was informed about the soldiers` nutritional status. As Minister stated, one of her main priorities will be training and equipping of the military: "For me it is most important that the military personnel should be equipped to the highest standard possible and be offered an increased opportunity to train with the NATO member countries` forces. I assure you that the cooperation with the NATO countries will be further expanded and intensified."
Towards the end of the visit, Mrs. Tinatin Khidasheli attended the planned live-fire training held in the SOF.