Scheduled Training on Bagram Air Base
Friday, May 15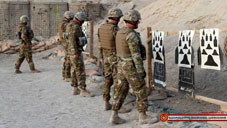 A scheduled training exercise was held at Bagram Air Base in northern Afghanistan. "Charlie" Company of the 43rd Battalion of IV Mechanized Brigade of the Georgian Armed Forces participated in the exercise.
The military exercise included several stages. After blowing up a simulated suicide bomber, the Georgian soldiers improved inter-mission patrolling, evacuation procedures and various methods of strengthening positions. The Georgian military acted according to the standard operation procedures.
Tactical training was also held in different sectors of the military base, and the entirety of the 43rd battalion underwent an exercise in marksmanship as well. As the leadership of the 43rd Battalion and Bagram Air Base stated, the Georgian unit maintains a high level of combat readiness.
The 43rd Battalion of IV Mechanized Brigade carries out the "Resolute Support" mission on Bagram Air Base. Their main task is to provide security of the base.