EBRD Annual Meeting and Business Forum opens in Tbilisi
By Ana Robakidze
Friday, May 15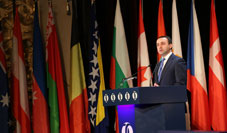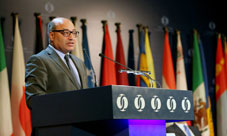 The 24th EBRD Annual Meeting and Business Forum officially opened on May 14. The capital of Georgia is hosting officials from around 60 countries, heads of international organizations, as well as corporate executives and EBRD representatives who have gathered in Tbilisi.
Prime Minister of Georgia Irakli Garibashvili and EBRD President Sir Suma Chakrabarti opened the forum at the Tbilisi Parliament building.
"Georgia is a leading country in transparency and open governance. Therefore, it is the best place for making investments," PM Gharibashvili said in his speech. He thanks EBRD for its cooperation and supporting investments in Georgia.
Addressing the forum, PM Gharibashvili focused on the big economic potential Georgia has as well as the regional challenges the country has to face. He said that despite the difficulties in the region, Georgia still manages to maintain annual economic growth.
"Georgia is a country with one of the most simple tax systems in the world and lowest taxes. We have only six types of taxes. Social tax and import tax on over 85% of goods have been abolished completely, " Gharibashvili said.
According to the PM, the government initiated various amendments in the law to promote business and transform Georgia into an economic hub. He urged guests to pay more attention to Georgia's geopolitical location; the PM said this location does not make the Georgia only into a transit country, but it makes the country a perfect place for international company headquarters and regional financial centres.
"The success of your country is also the success of our bank, and so I would like to thank your team and Nodar Khaduri's (Minister of Economy of Georgia) skilful leadership," EBRD President, Sir Chakrabarti said at the forum. He said Georgia has been developing its economy for 25 years and while the country can be proud of its achievements, there is still a lot to be done.
According to Sir Chakrabarti, the EBRD continues to invest in Georgia as well as to attract independent investors to the country.
After the opening ceremony, the EBRD President addressed the Board of Governors Bank's and said the bank strategy for the next five years would ensure that the EBRD was in a position to deliver on its commitments to the region in the face of continuing geopolitical and economic uncertainty.
"The EBRD can help ensure that the transition stays its course, be a major investor when others hesitate, and support common goals both locally and globally," he said.
The Governors, who represent the EBRD's 66 shareholders, were being asked at the Annual Meeting to endorse the Bank's Strategic Capital Framework which assesses its capital position up until 2020 and outlines three overriding strategic priorities for the coming years.
On May 14, the forum hosted three panels: The (R)evolutionary Road: Company Stories Made Real, Gender in Business and Investing in Green Infrastructure.