Vazagashvili case hearings resumes in the city court
By Ana Robakidze
Tuesday, May 19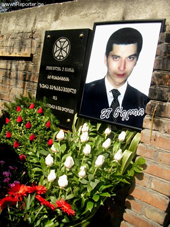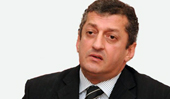 Tbilisi city court resumed its hearings on the high profile murder case, widely known as 'the tennis court case', on May 18.
It was very noisy in the city court due to a confrontation between the parties. Family members of the victim, Zurab Vazagashvili, verbally abused the convicted and called them murderers.
Irakli Phirtskhalava, one of the defendants, addressed the court and asked the judge to explanation why was the case divided into two and the hearing of 5 members of SWAT is being held separately from the hearing of the other six defendants.
"The situation is ridiculous, we have a case which is being discussed by two different judges and in two different rooms." Phirtskhalava said. He also accused the Prosecutor's Office of being in an agreement with the Vazagashvili family and bringing fake witnesses to the court. Phirtskhalava addressed media outlets and urged them to have more interest in the case and air the investigation process and court hearings in details. He said he tried to contact the public defender, but Ucha Nanuashvili never replied.
Friends and family members of the defendants met Pirtskhalava's speech with applause and the judge presiding made them leave the room.
Giorgi Tsaadze, who is accused of having personally shot one of the victims, also addressed the court and demanded video footage of the operation to be revealed. He claims it can be seen in the footage that he did not open fire.
Zurab Vazagashvili and Aleksandre Khubulov were shot by the police special forces in a car near the tennis courts in central Tbilisi on May 2, 2006. Police officers claimed the victims were the first to open fire and the police only responded.
Authorities closed the investigation into allegations that police used excessive force for lack of evidence in April, 2007. In 2012, the new government of Georgia resumed the investigation, as additional evidence had appeared: alternative ballistic examination results reportedly show that no shots were fired from the car.