Georgia launches campaign to attract tourists in summer
Tuesday, May 19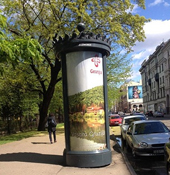 "What are you looking for this summer? Delicate Europe? Breathtaking seashores? Modern infrastructure? Untamed nightlife? Wild nature? Divine relaxation? Exotic culture?
Or maybe you want it all? Then spend summer in Georgia."
Georgia's National Tourism Administration is this year allocating 8 million GEL to promote the country as a tourism destination in several countries. This amount of money is far more than what has ever been spent in previous years.
'Summer in Georgia' is the name of the campaign that has already launched in Latvia, where 70 billboards with views of Georgian landscape were displayed in several Latvian cities. The billboards change every 10th day and will show a new view.
The National Tourism Administration of Georgia planned to launch the same campaign in Azerbaijan, Turkey, Ukraine, Kazakhstan, Belarus, Hungary, Lithuania, Israel and the Russian Federation.
Groups of journalists and camera men from various countries were also invited to Georgia to travel around the country and prepare reports about Georgia's touristic potential for the leading media outlets.
The Tourism Administration said "a portion of Latvia locals" had already "expressed their interest" in visiting Georgia this summer.
(Agenda.ge)