NATO Parliamentary Assembly says Georgia deserved MAP
By Ana Robakidze
Thursday, May 21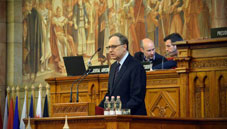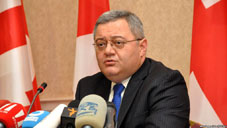 NATO's "Open Door" policy is a powerful instrument to achieve peace in Europe, NATO Deputy Secretary General Ambassador Alexander Vershbow said addressing the NATO Parliamentary Assembly Spring Session, on May 18.
"We continue to work with all our partner countries who aspire to NATO membership, and they will each be judged on their own merits. As we agreed in Wales, Montenegro's progress will be assessed by NATO Foreign Ministers by the end of the year, with a view to deciding on whether to invite the country to join the Alliance. Allies will also need to address how to encourage further progress by the other three aspirants, Georgia, Bosnia-Herzegovina, and the Former Yugoslav Republic of Macedonia," Vershbow said and called on the alliance to intensify its work not only with the eastern partner states but also with the southern ones.
The Parliamentary Assembly which opened its spring session on May 15 adopted a declaration on NATO enlargement and urged the alliance to finally grant Georgia with Membership Action Plan (MAP).
"The assembly urges the governments and parliaments of the North Atlantic Alliance to continue supporting the implementation of a Substantial NATO-Georgia Package and, in accordance with the Bucharest 2008 Summit decision, to take the next step in Georgia's integration to NATO by granting it a Membership Action Plan," the declaration reads.
The declaration also reaffirms the full support to the Wales Summit decisions on the open door policy and the Substantial NATO-Georgia Package. As the assembly said in the final document the package helps Georgia to advance its membership of the Alliance.
The Parliament Speaker of Georgia who also participated in the assembly session asked the delegates to make sure the open door policy does not become a revolving door policy, where aspirants are stuck.