First ever Georgian Diaspora forum takes place in Tbilisi
By Ana Robakidze
Thursday, May 28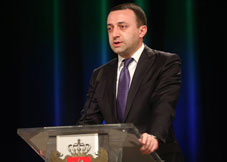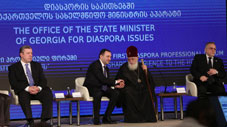 The Prime Minister of Georgia Irakli Gharibashvili addressed the first ever Diaspora forum held in Tbilisi and said that the state is responsible for the well being of its citizens within the country and abroad.
"We have to unite around the idea of building a powerful state," PM told the participants. Gharibashvili said the fact that only 3.7 million people are left in the country is alarming. PM said Georgians left the country and never returned back due to various developments that took place in Georgia over the last 25 years.
"We are trying to come up with an idea which will help our citizens to return to their homeland. We have enormous financial and intellectual resources in our possession and every single citizen is extremely valuable for us. The main problem we have is lack of effectiveness while using the resources we have," the PM said. Gharibashvili added that considering its capabilities Georgia should not be among the poor countries of the world, there should not be jobless people and financial difficulties.
According to Gharibashvili Israel is a great example of how a state should handle problem and transform itself into a powerful nation. PM said that the government is determined to finalize all the state reforms and bring betel leaving standards in the country.
"Our government managed to create free environment for our citizens, students, professors, media representatives and etc. are free from political influence," Gharibashvili said.
The Patriarch of Georgia, His Holiness Illia II also participated in the forum. He has been known for being very supportive towards Georgian immigrants. He said everyone should think what the country able to offer its citizens who have left for abroad.
"We have to put all efforts to strengthen national consciousness among our citizens. They have to realize that just like god homeland can be only one," Illia II said.
The first Georgian Diaspora forum was held on May 27. Tbilisi State University hosted the event.