Six people still missing after the deadly flood hits Tbilisi
By Ana Robakidze
Wednesday, June 17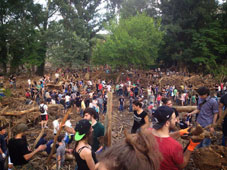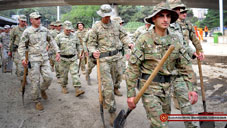 Five people are still missing and seventeen were found dead after a deadly flood hit Tbilisi on June 13. The oldest victim found was 77 years old and the youngest one Indira Zarandia, who was 22. Officials are still searching for her 25 year old sister Liza. Ivlita Jibuti, who was missing for three days, was found dead by volunteers in Mziuri Park on June 16. Ivlita's husband was saved by the rescue team on the night of tragedy, but she and her friend were washed away by water when they were trying to stay safe on the roof of the house.
In addition, twenty-four families have lost their homes and all their personal belongings were washed away in water. The city has suffered damage of at least 40 million GEL. Hero's Square, one of the central highways in the city, Mziuri Park, the city zoo and Svanadze street have all been destroyed. It will take a long time before the places are first of all cleaned from mud and debris and subsequently reconstructed.
Predators which escaped the zoo after it was flooded and were roaming the streets of Tbilisi were either shot dead or captured. According to the director of the zoo, Zurab Gurielidze there are no wild animals left in the streets of Tbilisi so citizens are now safe.
Citizens and various organizations have set up bank accounts to collect donations. A global campaign set up by an international crowd funding website raised around 41.000 GEL in the first 24 hours. Large commercial banks and other companies based in Georgia also made their contribution and transferred several hundred thousand lari to help victims of the flood.
Leonid Kuchevski, former mayor of Ukrainian capital Kiev, who recently moved to live in Georgia, said he will transfer 110.000 GEL to help those affected by the deadly flood. Many partner states of Georgia have expressed their readiness to help the country help the country recover from the aftermath of the disaster.
Specialists from the Czech Republic and Israel have already arrived in Tbilisi to help with rebuilding the zoo.