Meeting with NGOs
Thursday, June 25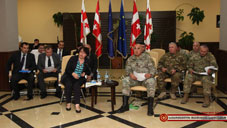 The meeting between Minister of Defence of Georgia Tinatin Khidasehli and Non-Governmental Organizations came to an end. Chief of the General Staff of the Georgian Armed Forces Major-General Vakhtang Kapnadze, Deputy Defence ministers Besik Lokadze and Davit Ebralidze as well as the heads of the structural units of Ministry attended the meeting.
The civil society representatives working in international, education, psycho-rehabilitation and transparency-good governance sectors took part in the meeting.
Minister and Chief of GS informed the NGOs about military units `active involvement in the disaster-affected areas, executed and ongoing recovery works.
Three hours-long meeting with civil society representatives proceeded in a question and answer format.
Following the meeting, Minister and Chief of GS treated the NGO and media representatives to dinner at the IV Mechanized Brigade canteen.