Patrolling in Balkh Province
Thursday, June 25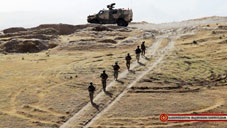 The military servicemen of Reinforced Company of IV Mechanized Brigade of GAF deployed at the German base in Balkh Province, and carried out patrols in their operational area.
During patrols, the Georgian units discovered old ammunition caches buried in the ground, after which an engineer group was called as required under the standard procedures. Ordnance experts examined and cleaned up the territory. The patrol went on 12 hours.
The goal of patrolling by the Georgian contingent is to protect Camp Marmal, to control an operational area, limiting the free movement of adversary forces and ensuring the security of the local population.
The Georgian servicemen replaced the German Response Force at the Camp Marmal.