Cyber Security Bureau representatives visit Republic of Turkey
Thursday, June 25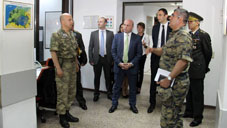 The delegation of LEPL Cyber Security Bureau of Ministry of Defence of Georgia paid an official visit to the Republic of Turkey.
The goal of the visit is to develop cooperation in the field of cyber security and to deepen bilateral relations. Within the official visit the delegation members met with Communications, Information Systems and Cyber Security Commander of Turkish Armed Forces, Commander of the General Staff's Division for Electronic Systems and Cyber Defence Col. Cengiz Ozteke, and other high-ranking military officials. The sides exchanged information about their spheres of activity and agreed upon intensification of future cooperation in the cyber security sphere. The Georgian side also became familiar with communication and information systems of the Turkish Armed Forces and Cyber Security Service infrastructure.
In the frames of the visit in Turkey, the members of Georgian delegation visited NATO Centre of Excellence – Defence Against Terrorism, Cyber Security Institute of Informatics and Information Security Research Centre, Cyber Security Technology Centre and the manufacturing companies ASELSAN and HAVELSAN.
The Turkish side expressed readiness to promote development of cyber security capabilities in Georgia`s defence sector and to support Georgia`s participation in trainings organized by NATO Centers.