Defence Minister Concluded Agreement with France
Friday, July 17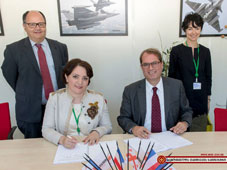 The Minister of Defence of Georgia, Tinatin Khidasheli, signed the second contract with the French side. The agreement has entered into force and its implementation will start on January 1st 2016. As the Defence Minister said signature of the agreement with the French side could not happen without the political will. "We have completed the second stage and signed an agreement. The French side demonstrated outstanding partnership, endeavour and trust. Such decisions are not taken without the political will as the position was not clear with regard to Georgia. After the signature of the agreement we can freely say that there is no embargo imposed on Georgia. We have achieved several goals. We could make diversification of the topic and create a fundamental base to negotiate with our partners about any issue. I am happy with the content as well as with the political importance of both treaties," Defence Minister said.
She thanked the French Government and French companies for the high level of trust expressed towards Georgia: "I would like to thank France and these companies that the process was implemented with high level of trust in partnership and desire for our success. This is demonstrated on each page and article of the document".
After arriving in Georgia, the Defence Minister familiarized the Supreme Commander-in-Chief of Georgia with the details of the agreement signed with the French side. Chief of General Staff of the GAF, Major General Vakhtang Kapanadze, First Deputy Defence Minister Davit Ebralidze, Commander of Aviation and Air Defence Colonel Davit Abramishvili and Commander of Air Defence Brigade LTC Levan Iluridze attended the meeting held at the President's Palace. Head of President's Administration Davit Pataraia, Secretary of Security Council Irina Imerlishvili and her deputies also participated in the discussions.
"We delivered detailed information about the both agreements signed with the French side to the Supreme Commander-in-Chief. We also familiarized him with our plans at MoD, as well as regarding cooperation with the French companies in order to strengthen Georgia's defence capabilities. Supreme Commander-in-Chief gave us consultations. Further negotiations on this kind of issues couldn't be held without consultations with the President. We – the Minister, Supreme Commander-in-Chief and Prime Minister agree that Georgia's defence capability is becoming more solid, stronger and interoperable with NATO," stated the Defence Minister after the meeting.
Secretary of National Security Council outlined that these agreements signed with the French side will improve defence capability of the country. "We discussed all details of the agreements. I can't disclose information about the agreements as they are classified. Those air defence systems will enhance Georgia's defence capability", stated Irina Imerlishvili.
Georgia signed the first agreement with France on June 15 and the second one on July 10. Following the Supreme Commander-in-Chief, the Defence Minister plans to discuss the issue of making the part of the agreement public with the Trust Group format in the Parliament of Georgia.