Georgian Military Unit Completes SEL-2 Exercise Successfully
Friday, July 17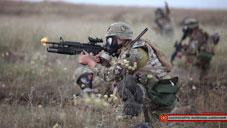 A Company of the 12th Battalion of I Infantry Brigade held a demonstrative exercise at the Vaziani firing-range, and finished the SEL-2 exercise that was conducted within the framework of NATO OCC E&FP.
Five officers from different NATO Headquarters provided monitoring of the exercise and an assessment. The I Infantry Brigade military carried out an offensive operation that lasted for 24 hours and finished successfully. According to the exercise scenario, the military servicemen used infantry combat vehicles and different types of armament while attacking the enemy. The 'wounded' soldiers were also evacuated.
Towards the end of the exercise, Deputy Chief of General Staff COL Roman Jokhadze assessed the performance of the Georgian unit and awarded certificates of gratitude to the NATO officers.
For the following phase, the I Infantry Brigade Company will be allowed to go through NEL-2. In case of successfully passing this level, the Georgian military unit will become fully interoperable with NATO and will be used purposefully according to needs over the next three years.