Defence Minister Opened the Conference of "Peace and Security"
Friday, July 17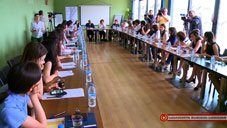 The Defence Minister of Georgia opened the conference "Peace and Security" in Kvareli. The Youth Atlantic Treaty Association of Georgia launched the South Caucasus NATO Summer School seminar supported by NATO's Public Diplomacy Division. Young leaders from Georgia, Armenia and Azerbaijan participated in the seminar.
Tinatin Khidasheli addressed the young leaders, focusing on Georgia's prospects in NATO membership and emphasized the young leaders' role in this process. "To have constant contact with the youth is very important. It was a great honour for me when I received the invitation. I express readiness to cooperate with any organization, especially with youth groups. We do everything for our young generation to grant them a better future and live in a better country. Therefore, their opinions, attitudes, positions and discussions are very interesting. Young people think and realize things differently," stated Defence Minister.
During the conference, the participants discussed NATO's principles and missions, NATO's policies and international security, the role of NATO in South Caucasus, relations between NATO and Russia, NATO-Ukraine, Russia's influence over the South Caucasus, religious extremism in the South Caucasus and the ISIS threat for the world.