Members of European Parliament visit Georgia
By Ana Robakidze
Monday, July 27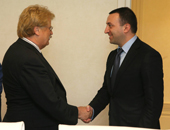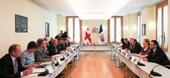 Members of European Parliament (MEPs) arrived in Georgian on July 25 to meet the country officials as well as to visit the administrative border with the breakaway territory of South Ossetia.
On July 25 the delegation, chaired by Elmar Brok, Chairman of the European Parliament Committee on Foreign Affairs held meetings with President Giorgi Margvelashvili, Prime Minister Irakli Gharibashvili, as well as the deputy foreign ministers and opposition parties.
According to the PMK's press centre, Brok praised Georgia for the progress it has achieved in striving towards membership in the EU. At the meeting with PM Ghariabshvili, the European lawmakers discussed the reform of the Prosecutor's Office and within the Ministries of Justice and Internal Affairs. The delegation emphasized that Georgia has been very successful in state reforms.
The PM thanked the lawmakers for supporting Georgia and said that the implementation of the Association Agreement is the highest priority for the government.
"We support Georgia's territorial integrity and we do not recognize Russia's occupational policy," Brok said after a meeting held at Georgia's Foreign Ministry.
The delegation is mainly focused on discussing Georgia-Russian relations and tensions that have recently occurred along the administrative boundary line with breakaway South Ossetia.
Later on July 25, Members of European Parliament visited Khurvaleti, a village in Shida Kartli region which borders the Russian-occupied Georgian region.