Georgian Parliament condemns Russian provocation
By Messenger Staff
Monday, July 27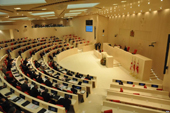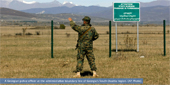 A resolution initiated by the ruling Georgian Dream Coalition was adopted by the Parliament on July 24. The resolution condemns the recent provocations that took place along the administrative boundary line with the breakaway South Ossetia in the close vicinity of Georgia's major east-west highway, when Russian occupants installed demarcation signposts marking them as the "state border'.
A total of 82 law makers supported the resolution, while another resolution proposed by the United National Movement (UNM) party got voted down. The resolution says Russia's activities in Georgian territory were aggressive and provocative and against the sovereignty and territorial integrity of the country. The parliament says Russia has been continuing with ethnic cleansing and human right violations against Georgian citizens.
The resolution calls on the government to intensify its efforts and spread the word within international community and make sure that the Russian aggression in Georgia is noticed by the partner states. The government is advised to pursue the issues at the UN Security Council and Geneva talks.
The resolution also addresses the problems of the Georgians who were directly affected by the occupations and urges the government to evaluate the damage and provide the victims with financial support.
The resolutions initiated by the GD Coalition and UNM were quite similar to each other; however, the opposition party was requesting the cancellation of the so-called Abashidze-Karasin format, which is the format Georgia and Russian sides use to negotiate on cultural and economic issues. The ruling coalition strictly opposes any possible changes in negotiations with Russians and insists to keep both Geneva Talks and Abashidze-Karasin Prague meetings active.
The UNM also requested in the resolution that a government addresses the UN and asks to summon the Security Council to discuss the occupation. The resolution was turned down, though this was not the first time the UNM failed to push a document in Parliament. In autumn 2014, two resolutions regarding the Russian occupation were turned down by the ruling coalition.