Georgian judokas bring first medals to the country
By Ana Robakidze
Thursday, July 30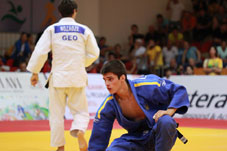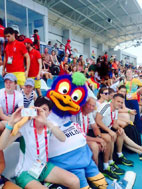 Georgian judokas have brought the first medals to Georgia the Tbilisi 2015 European Youth Olympic Festival (EYOF). Zurab Kakhniashvili (50kg) was the first to win bronze medal after defeating the Czech Davit Vopati. Another bronze medal was claimed by Temur Nozadze (55kg) in a fight with Ugurcan Zehir of Turkey.
Kakhniashvili said the competition was not the easiest one.
"It was a difficult round, but I am very happy to be the first to bring a medal to the Georgian delegation. I will try my best to improve my results and gain only gold medals for my country." Kakhniashvili said.
According to Nozadze, his competition with the Turkish athlete was tense, as he was not able to gain an advantage until the very last seconds.
"I had an extremely close fight and performed the winning throw just nine seconds before the end. I am not going to stop at this and try my best to win gold." Georgian athlete said.
Based on the results of the first three days of the games, the Russian delegation has won the most of the medals, with a total of 9. Italy and Hungary are the runner ups with 8 medals each, while Spain, Germany and Great Britain have won 5 medals each.
The games will end on August 1. The Tbilisi 2015 European Youth Olympic Festival is the largest sport event Georgia has ever hosted and the Olympic committee says the country is a very successful host.
The President of the European Olympic Committee, Patrick Hickey, European Athletics President Svein Arne Hansen and Vice President of the International Association of Athletics Federations (IAAF) Sergey Bubka, openly expressed their satisfaction with the Grand opening ceremony and congratulated the organization team.