UN Secretary General Ban Ki Moon concerned over Russia's activities on Georgian territories
By Ana Robakidze
Friday, August 14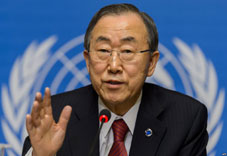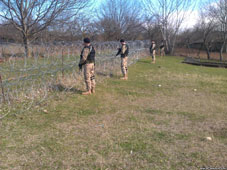 UN Secretary General Ban Ki Moon is concerned over the situation in Georgia's break-away regions. According to his spokesperson, the Secretary General condemns the installation of border signs and wire fences along the administrative boundary between Georgia controlled territories and Abkhazia and South Ossetia regions. Ban Ki Moon advises the parties to use Geneva International Discussions (GID) as the main platform to address the issues stemming from the conflict.
"The Secretary-General calls on the GID participants to redouble their efforts to make concrete progress on all issues that are under discussion in the GID. He is also concerned about reports of continued "borderization" along the South Ossetia and Abkhazia administrative boundary lines. He once again urges all relevant actors to continue to use existing mechanisms, including the GID and the Incident Prevention and Response Mechanism (IPRM), to discuss issues of concern, including the full implementation of the 12 August 2008 six-point ceasefire agreement." Stephane Dujarric said on August 12, when he was asked about the Georgia-Russo war anniversary and the six-point ceasefire agreement.
Georgia's representative in the UN, Kakha Imnadze, calls on the international community to put more pressure on Moscow and help Georgia to end the occupation of its lands. At the press conference held in the UN, Imnadze reminded the society that his country is a victim of constant occupation and Russian forces have been creeping deeper into Georgian territories for seven years now.
"The ceasefire agreement was signed seven years ago but 20% of Georgia's territory still remains to be occupied. As a result human rights are constantly being violated in the region as a and thousands of Georgian citizens are now without homeless.
Russia refuses to fulfil its commitments. Besides, 10,000 Russian soldiers, heavy military vehicles and equipment are currently present in the occupied territory and installation of barbed wire fences in the region continues. I would like to call on the international community to continue pressuring Russia in order for the latter to fulfil its commitments," Imnadze stated.