Azerbaijan buys 30 passenger carriages for Baku-Tbilisi-Kars railway route
Monday, August 24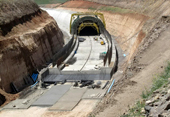 Azerbaijan is intending to put 30 new passenger carriages into operation on the Baku-Tbilisi-Kars railway corridor that connects Azerbaijan, Georgia and Turkey.
Azerbaijani Railways spokesperson Nadir Azmamedov told Trend news agency that his company had asked Turkey if it could purchase 30 passenger carriages and confirmed the deal had been accepted.
The carriages will be comfortable and equipped with modern technologies. The carriages will arrive in Azerbaijan by the end of the next year. Passengers will be able to travel [From Baku] to Kars in one day," said Azmamedov.
The international railway route connected Baku in Azerbaijan, Tbilisi in Georgia and Kars in Turkey.
The Baku-Tbilisi-Kars railway aimed to improve trade and economic relations between the three countries and gain Foreign Direct Investments (FDI) by connecting Europe and Asia.
The $600 million USD railway project is due to open later this year.
Ten years ago high officials of all three countries agreed on the railway project to facilitate transportation of passengers and goods, principally oil.
Implementation of the project began in 2007 and construction began in 2008. The whole project foresaw the rehabilitation and reconstruction of the 178km-long railway between Marabda and Akhalkalaki and construction of a new railway from Akhalkalaki to the Turkish border, stated Georgian Railways.
Management believed that increasing trade between Turkey and Central Asia provided it with a significant opportunity to capture trade flows, particularly raw materials imported into Turkey from Central Asia and finished goods exported by Turkey, said Georgian Railways on its website.
Initially it was believed the Baku-Tbilisi-Kars railway line would transport a million passengers and 6.5 million tons of cargo, and by 2030 it was expected to carry an estimated 17 million tonnes of cargo and approximately three million passengers.
(Agenda.ge)