NATO General Secretary pays his first official visit to Georgia on August 26-27
By Messenger Staff
Monday, August 24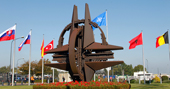 The General Secretary of the North Atlantic Treaty Organization (NATO), Jens Stoltenberg, is scheduled to pay his first official visit to Georgia on August 26-27, Georgia's Foreign Ministry (MFA) has informed.
The NATO officials will hold meetings with Georgia's Prime Minister, President, Parliament Speaker, and Foreign Minister and with the representatives of the executive government.
The Ministry stated that Stoltenberg would also pay respects to fallen Georgian soldiers and place a wreath at the Memorial of Heroes in Tbilisi.
"An inauguration ceremony of the Georgian-NATO joint Training and Evaluation Centre will take place on August 27.
"The General Secretary will also meet the hundred Georgian soldiers who were specially trained for the NATO fast reaction forces," MFA said.
According to the ministry, the NATO official will also discuss the implementation process of the substantive package the alliance offered Georgia through the Wales Summit in 2014, as well as the country's preparation for next year's NATO Warsaw Summit.
Prior to the visit, Georgia's Defence Minister Tina Khidasheli held high-level meetings in the United States.
During one of the speeches, Khidasheli stressed that it was NATO's closed door that encouraged Russia's aggression in Georgia in 2008 and the following year and not the alliance's position to enlarge.
"We need and deserve the Membership Action Plan (MAP) at the Warsaw NATO summit," Khidasheli stressed.
"When we were not granted the MAP in 2008, Russia launched a war. Now we are told by our international partners not to be provoked by Russia. The Russians are moving the so-called borders every day. Now they stand several meters from Georgia's major highway… if they advance any further, Georgia will be cut in two," she said.
Indeed, it is obvious that the international community's permanent concession towards Russia only makes the country more and more aggressive.
If we are again rejected on MAP in 2016 it will not a solely Georgian failure; it will be the failure of the whole international community, and will only serve to encourage further Russian aggression.