Vote for Georgia's best tourist businesses in annual awards
Tuesday, September 22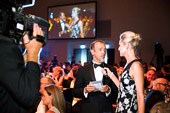 This year's edition of Georgia's annual National Tourism Awards are in full swing, with a competition now underway to reveal the country's leading businesses in their respective fields.
Organisers of the 2015 awards called on the public to vote for their favourite local business following today's launch of the online voting system on the competition website.
To the local businesses who haven't yet registered – don't despair because registration is open for another week on the website.
Once online voting has ended, the public results combined with the comments of an independent jury will reveal overall winners and finalists in 22 categories covering various tourist-related businesses in Georgia.
The judges panel includes Georgian and foreign brand representatives, public officials and advisers.
The awards are supported by the Ministry of Culture and Monument Protection of Georgia, the Georgian National Tourism Administration, Batumi City Hall and Batumi Tourist Information Centre.
Voting on the official website: http://awards-tourism.com/ is open from now until September 30. Finalists will be announced by the end of October.
The 2015 National Tourism Awards ceremony will be held on November 20 at the Funicular Restaurant Complex in Tbilisi.
(Agenda.ge)