Media reports two more youngsters left for IS from Georgia's Pankisi Gorge
By Messenger Staff
Tuesday, September 22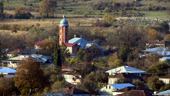 There are grounded suspicions that youngsters from Georgia's Muslim populated Pankisi gorge still continue to join radical the Islamist group known as the Islamic State (IS) in Syria and Iraq.
It has been recently reported by Georgia's media outlets that two young men, 21 year-old Amiran Bochashvili and Aslanbeg Bochashvili left for Turkey several months ago in order to join IS.
The family members of the boys deny the information, stating that their sons were seeking jobs in Turkey.
Information over joining the IS has not been confirmed by Georgia's Ministry of Internal Affairs.
Meanwhile, the Facebook status uploaded by Aslanbeg on September 11 reads:
"Everything in this life depends on Allah. He makes decision over our lives. He decides when and where we should die, before our birth."
According to locals, more than 170 youngsters are fighting in Syria currently, among them is the widely-known Abu-Omar-Al-Shishani (real name Tarkhan Batirashvili), one of IS's most feared military commanders. Among them are two underage individuals, who left Georgia in Spring 2015.
The analysts name Batirashvili as a motivator for young people from Pankisi Gorge, as they think that he would support them in successfully reaching IS.
On September 12, a 17 year old girl was returned to her family by police officers. According to family, underage girl was supposed to be sent to IS fighter Vakha Tokhosashvili as a bride.
The MIA has already arrested the former Imam of the Village Jokola, Ayuph Borchashvili, for promoting terrorism, on June 14. However, young people are still leaving the country.
The Director at Institute for Regional Development and Cooperation Giorgi Gobronidze said that the arrest of one leader cannot change the situation.
"They probably have more leaders; supposedly this is a huge net and it will take time to identify them all," stated Gobronidze.
According to the head of the Human Rights Commission, Eka Beselia, amendments have already been introduced in the law to prevent the flow.
"This is a very sensitive issue. Parliament is working on a prevention strategy," stated Beselia.
Of course, religion is clearly the main motivator for youngsters to leave for Syria and Iraq.
However, we should not also forget about the hard economic condition in the country that might also be a very serious encouraging factor for the young people to look for welfare and easy ways of becoming rich abroad; terrorists amongst them.
It has been stated by locals that Batirashvili's family in the gorge lives well and this factor should not be excluded.
Herewith, a lack of knowledge might be the source of all ill-activities.
Together with the changes in the law and other legal moves the Government should take active measures in order to inform locals about the horrible facts the IS commits every day.
An improved economic situation in the country might also ease the problem. However, making vital changes in the country's economy seems to be a long-term goal.