Georgian president demands to mull co-op with Gazprom again
Tuesday, October 27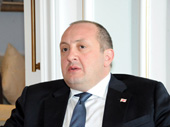 Georgia's President, Giorgi Margvelashvili, has again demanded to discuss the prospoect of cooperation with Russia's Gazprom company during the upcoming government meeting, RIA Novosti reported.
Georgia's Energy Minister Kakha Kaladze held a meeting with Gazprom representatives in September. During the meeting, he did not rule out the possibility of increasing the volume of Russian gas supplies if the prices proposed to Georgia will be able to compete with those for Azerbaijani gas supplies.
However, these negotiations were criticized by Georgian opposition representatives and some media outlets. Georgia's opposition systematically holds protest actions demanding to stop the negotiations between the country's government and Gazprom.
"We want to get information about such a strategically important issue," an adviser to the Georgian President, Pikria Chikhradze, said. "We were called to negotiate with certain high-ranking officials.
"We have held many such talks, but haven't clarified the situation. Therefore, we still demand a reconsideration of the Gazprom issue during the government meeting," Chikhradze added.
(Trend.az)