Mid-term elections: 'a test'
By Messenger Staff
Tuesday, November 3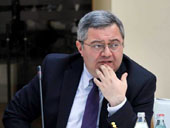 Georgia's Parliament Speaker Davit Usupashvili spoke about the mid-term elections and stated that it was a test for the current state Government of Georgia.
Usupashvili stressed that the coalition must be united, otherwise they will lose the upcoming parliamentary elections scheduled for 2016.
He thanked the candidate of the Patriots Alliance of Georgia, Irma Ivanshvili, who was narrowly defeated by the coalition candidate in the Sagarejo region.
"I want to thank Irma Inashvili for the useful 'test match', including for testing the coalition's strength," Usupashvili said.
"In my opinion, we in the Georgian Dream coalition received a clear message," he said and spoke widely about these 'messages':
"1. Free voters demand more, therefore, more work, more direct communication and political innovation is needed in the future.
2. The United National Movement party is no longer the only opposition force, so we will face multiple opponents in the next elections.
3. It is difficult to defeat strong rivals, but at the same time, they are more desirable sparring partners.
4. Our strength is in the unity of our coalition, so none of the partners should have illusions that they will achieve anything in the 2016 parliamentary elections if we are divided.
5. If we cannot change ourselves, voters will change us in a year, so, we have to agree on everything right away and start to work," said the Speaker.
The mid-terms elections served as a good test for the Government; it was a test for both the majority and the opposition as well.
The majority saw that their victory in the upcoming elections stands at risk and the Government will have to do its utmost to regain the trust of the public and retain power.
On the other hand, the situation might be negative for the opposition United National Movement (UNM), which claims to be the premiere opposition party in Georgia.
As it appears, some other parties might replace them in this role in the upcoming elections.
All in all, the 2016 parliamentary elections might be the most interesting elections in Georgian history as it might not have a predictable outcome.
Consequently, we might see different political parties in the legislative with no party with an absolute majority.