Visa-free travel and Georgia's occupied regions
By Messenger Staff
Tuesday, December 22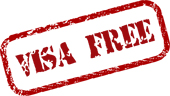 Several days ago, Georgia received a positive report from the European Commission which has opened the door to Schengen zone countries after dealing with a few further political evaluations which are being treated as formalities.
The European Commission report was a technical approval for Georgians to travel to European Union (EU) member states without visas for a limited time within a year.
The relevant EU bodies will formally approve the technical solution over the next few months, and from the summer of the next year Georgians will be traveling to the Schengen zone without a visa.
The current Georgian Government and the opposition evaluated the motion as an "historic moment for Georgia."
It should be stressed that it was a timely solution from the EU as well, as Georgians needed to see certain positive moves from the organization, as years of empty promises have caused support for the EU to decrease within the Georgian population.
Speaking about the advantages Georgia could get from visa liberalization, the current state leaders highlighted the benefits that the residents of Georgia's occupied regions could also obtain if they were under the jurisdiction of the state.
The state officials stressed that visa-free travel with the EU would definitely be applicable to Georgian citizens currently living in the occupied regions of Abkhazia and South Ossetia.
Of course, such messages are of the utmost importance, as the people who live in the occupied territories are living in sub-standard conditions.
If they see that they would be better living under Tbilisi's rule, they will also start taking steps towards reconciliation.
The circumstances of the modern world will also assist in this. It means that unlike in previous years, the youth of the occupied regions have access to the Internet, and are able to access a diverse amount of information with the possibility to differentiate the white from the black.
However, on the other hand, Georgia must be politically and economically strong enough so that Russia will not to be able to prevent the locals to reveal their wishes to reintegrate with Georgia.
Reintegration must happen timely, as in the future the number of the Russian citizens brought to settle in Abkhazia and South Ossetia by the occupant forces might outnumber the local residents.
In such a situation, it will be extremely difficult for Georgia to reintegrate its historic provinces.