Georgia takes measures to attract more Chinese tourists
Monday, January 11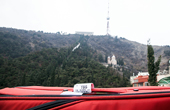 Georgia is creating more opportunities to develop Georgia-China tourism and is preparing special offers for Chinese tourists.
A special group has been already established to create a two-year action plan and develop ties in tourism between Georgia and China, announced the Head of the National Tourism Administration, Giorgi Chogovadze, today.
Chogovadze explained that China was a "specific" country and it was necessary to plan how to attract Chinese tourists to the country.
"This plan does not include activities from just the Georgian side, but it involves China as well. The Chinese side is also willing to be involved in the process, so both countries will plan the specific steps forward in growing tourism potential between the countries," Chogovadze said.
The action plan will also include several marketing activities, added Chogovadze.
(Agenda.ge)