SOCAR says no talks on commercial supplies of Iran gas via TANAP
Monday, January 11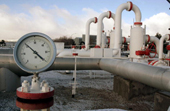 The supply of Iranian gas via the Trans-Anatolian pipeline (TANAP) was discussed only at the political level and not in a commercial context, Vagif Aliyev, the head of the SOCAR Investment Department, said in an interview with Azerbaijani ANS TV channel.
He said that the TANAP pipeline is primarily being built for the export of Azerbaijani gas from the second phase of the Shah Deniz field.
"At the first stage, its capacity will be 16 bcm of gas a year," he said. "But the pipeline can be expanded to 31 bcm to supply from other possible sources. Technically, this will enable to supply more gas to Turkey. However, the commercial supply of Iranian gas via TANAP has not been discussed up till now."
While commenting on the possibility of increasing the supply of Azerbaijani gas to Turkey amid deteriorating Ankara-Moscow relations, Aliyev said that currently Turkey has no problems with gas supply.
"However, we are considering the opportunity of increasing the supply. These issues will be resolved as far as possible," he added.
The TANAP project envisages the transportation of gas of Azerbaijan's Shah Deniz field from the Georgian-Turkish border to the western borders of Turkey.
The initial capacity of the TANAP pipeline is expected to reach 16 billion cubic meters of gas per year. Around six billion cubic meters of this gas will be delivered to Turkey and the remaining volume will be supplied to Europe.
Turkey will receive gas in 2018, and after completing the construction of Trans-Adriatic Pipeline (TAP), it will be delivered to Europe in early 2020.
Currently, the shareholders of TANAP are: the State Oil Company of Azerbaijan (SOCAR) – 58 percent, Botas – 30 percent and BP – 12 percent.
(Trend.az)