Georgian Minister dismisses speculations on introducing visa regime between Georgia-Turkey
By Messenger Staff
Monday, January 11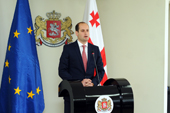 Georgia's Minister of Foreign Affairs has responded to Turkish media which reported that Turkey might introduce visa travel with Georgia, as the country (Turkey) and the European Union (EU) are discussing rules for a visa-free regime.
"Turkey and Georgia at this stage have no plans to introduce a visa regime," Georgia's Foreign Minister Mikheil Janelidze said.
It has been reported by Turkish media that the country will introduce a visa regime with 89 countries, including Georgia, starting from June 2016, at the request of EU.
"We don't see any necessity, or any circumstances, that could change the current visa regime between the two countries," Janelidze said.
Currently, Georgian citizens may enter the territory of Turkey using an internal passport as the two countries enjoy visa-free rules.
The Georgian Ambassador to Turkey, Irakli Koplatadze, also said that such false information appeared due to the fact that Turkey and the EU are discussing rules for a visa-free regime.
Despite the dismissal of the information, nothing is excluded. The only reason why Georgia could appear in the list is the flow of Muslim Georgians to the radical Islamist group, the Islamic State (IS).
It has been stated many times that Georgians living in the country's Muslim-populated eastern Pankisi gorge as well as in the western Adjara region initially move to Turkey, and through Turkey they then travel to join the ranks of the Islamic State.
However, from an economic and touristic point of view, such a step would be negative for both nations.
Turkey is one of the leading trade-economic partners for Georgia, and Turkey is a major tourist destination for Georgians.
Herewith, the Georgian government had carried out a range of steps to prevent the flow of Muslim Georgian youth to Syria and Iraq, and in comparison with some other states – especially those with a larger population than Georgia – the flow of IS recruits from Georgia has been insignificant.
However, political discourse over the following months will reveal whether the information was false or not.