Georgia will welcome Park Inn by Radisson hotel in 2017
Tuesday, January 12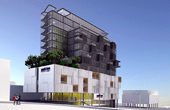 Radisson, one of the world's best-recognised hotel brands, is expanding in Georgia with the opening of a three-star hotel in Tbilisi.
The Park Inn by Radisson hotels will be located in central Tbilisi, just off the capital's main commercial street and only 200m from the former Georgian House of Parliament.
Construction work will start in 2016 and the hotel will open its doors in 2017.
The total cost of the project will be $25 million USD.
The Radisson brand signed a partnership agreement with a Georgian construction firm, Block Invest, to develop the Park Inn by Radisson in April 2015. According to the deal, the Tori Hotel, which has been operating in Tbilisi for many years, will be transformed into a Radisson Hotel.
The Park Inn will feature 200 guest rooms, an all-day dining restaurant for 120 people and a lobby lounge bar area measuring 120m?. Furthermore, the hotel will offer a 215m? meeting space and parking spaces for 40 cars.
As of today, Radisson operates (and continues to develop) six properties all across the country.
(Agenda.ge)