President Aliyev: Artificial price hike must be ended
By Messenger Staff
Tuesday, January 12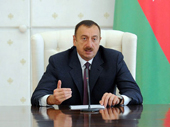 Increasing prices for products manufactured in Azerbaijan is impossible in general, said Azerbaijan's President Ilham Aliyev on Jan. 10.
The president made the remarks addressing a meeting of the Cabinet of Ministers, dedicated to the social and economic development in 2015 and the objectives for the future.
"We need to seriously control consumer prices. Some bargainers want to artificially raise prices in connection with the change in the manat's rate. We are, of course, dependent on food imports at a certain level," he said, adding that the country is not fully able to provide itself with domestic goods.
"However, the price increase for the goods produced in Azerbaijan is, in general, impossible and shouldn't take place," he said. "I know that some dishonorable people want to abuse this issue with the rate. This must end. An artificial increase in prices must be stopped."
"Very severe penalties should be used here, and we shouldn't limit ourselves to fines," added President Aliyev. "Let the prosecution authorities become seriously engaged in this. Very severe penalties must be applied to those who want to use the situation for their own benefit, and it should be covered by the press in order to put an end to it."
(Trend.az)