Five French cities enjoy Georgian wine tasting
Tuesday, February 9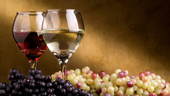 Wine lovers in France, one of the world's most renowned wine countries, got a taste of Georgian wine at several exhibitions this week.
Five French cities – Paris, Orleans, Blois, Angers and Saumur – sampled wine from Georgian wine companies Iago's Wine, Pheasant's Tears, Ramaz Nikoladze Cellar, Golden Wine, Winery Niki Antadze, Natenadze Wine Cellar and Mariam Iosebidze Wine.
The Georgian National Wine Agency said Georgian wine was presented at the natural wine exhibition La Dive Boutteille in Saumur, while the Les Penitentes exhibition was held in Angers. The other three cities enjoyed smaller tasting events.
Georgia's Ambassador to France, Ekaterine Siradze-Delone, said such events helped raise awareness of Georgian wine and gain a following among French consumers.
The head of the Georgian National Wine Agency, Giorgi Samanishvili, said qvevri wine was a 'visit card' of Georgia at international wine exhibitions.
'By showcasing qvevri wine at French exhibitions, it is becoming more popular on the international market. The Georgian National Wine Agency will support Georgian winemaking companies to take part in similar exhibitions and popularise Georgian wines to the international community and professionals,' said Samanishvili.
France, a country world famous for its own wine making traditions, has increased its imports of Georgian wine.
Last year, Georgia exported 38,000 bottles of wine to France. This was 190 percent more than in 2014.
Georgia's main export product to France was wine, said the Georgian National Wine Agency.
(Agenda.ge)