Iran can use Georgia's transit potential
Monday, February 15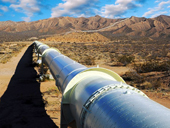 Iran can use Georgia's territory for transit of energy resources, said Ivane Mtvralashvili, a member of the Board of Directors at the Georgia-Iran Chamber of Commerce and Industry (GICCI).
Perspectives of Georgian-Iranian trade and economic relations were discussed at the conference organized by the GICCI and held at the Tbilisi Marriott Hotel.
The Georgian officials and Iran's ambassador to Georgia participated at the conference, Sputnik Georgia reported.
"Trade, economic and industrial relations between Georgia and Iran have dynamically developed in recent years," said Mtvralashvili adding that the abolition of visa restrictions for Iranian tourists gives an additional impetus to the development of these relations.
"After the removal of sanctions on Iran, monetary transactions will be restored and there won't be any problem with the arrival of large Iranian capital to Georgia, which will also contribute to the deepening of trade and economic relations," he added.
"The embargo on the export of oil and natural gas on Iran was removed and the use of Georgia's territory as a transit for energy resources is possible on this basis," he said. "We have great expectations that this relationship will also develop dynamically."
The visit of Georgian Prime Minister Giorgi Kvirikashvili to the Islamic Republic is expected in the near future, during which some important agreements will be signed, Iran's Ambassador to Georgia Abbas Talebifar said.
(Trend.az)