Georgian officials meet ICC Prosecutor in Munich to discuss Russian-Georgian war case
By Messenger Staff
Monday, February 15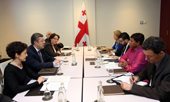 "We asked the Russian delegation to hold meetings with us though have not received their answer yet. If they say yes, we will include them in our meetings. As for our plans, our team will visit the region (de-facto South Ossetia) in order to conduct a thorough investigation," Bensouda said.
Georgia's Minister of Justice Tea Tsulukiani has thanked the ICC Prosecutor and spoke about the details of the war.
"Transparency and cooperation are our main instruments in this case in order to prove that Georgia faced ethnic cleansing in 2008 and our cultural heritage was destroyed," Tsulukiani said.
The Georgian side has expressed full readiness to provide all necessary materials over the war, while the Russians and the de-facto South Ossetian leadership have openly decried the investigation.
The so-called Prosecutor's Office of occupied South Ossetia has resumed its own investigation into the war, local media reported.
"The investigators have begun questioning representatives of law enforcement agencies and civilians that were victims of Georgian aggression.
"They will also interrogate residents who say they witnessed military crimes committed by the Georgian Army during the August War," the Sputnik Ossetia news agency reports.
The investigation was launched in August 2008 and resumed in May 2015.
According to the agency, 2, 850 local residents, "harmed as a result of Georgia's aggression" have already addressed the so-called Prosecutor's Office of the breakaway region."
The Russians maintain that they "helped South Ossetians" against Georgian aggression and "protected the locals".
If they are honest about their involvement in the war, surely they can openly participate in an international investigation and help the Prosecutor to establish the real reasons behind the conflict.
However, they continue to refuse to do so.