Republicans vs Industrialists
By Messenger Staff
Tuesday, February 23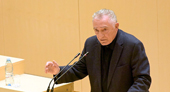 Gogi Topoadze, the leader of the Industrials Party - one of the groups that comprise the Georgian Dream (GD) coalition member Industrials Party in Parliament - has made critical statements towards Defence Minister Tinatin Khidasheli, who, for her part, represents the Republican Party of the same coalition.
Topadze says Khidasheli "falsified" the results of the Sagarejo by-elections by rushing in soldiers to vote at polling stations.
The Industrial's leader claimed "it was Khidasheli's personal decision", and will "damage the coalition's image".
Meanwhile, no major violations were recorded during the Sagarejo by elections, as Georgia's Central Election Commission and observers said.
Republicans became irritated by Topadze's statement, saying he was harming Georgia's state interests.
Their opinion was shared many other coalition members, who were unhappy with Topadze's statements.
Topadze himself says prior to the upcoming parliamentary elections this year, the coalition should make a choice between his Industrials and the Republican Party.
Topadze is famous for making statements that frequently trigger a negative reaction amongst the public.
Several of his claims were related to Stalin, as he favoured the leader.
Since the Free Democrats (FD) party quit the coalition more than a year ago, it has been stated by some European figureheads that the Republicans being a part of the coalition was "more than important."
They stated that the Republicans leaving the coalition would be a signal that the coalition was changing its foreign course.
Thus, if the situation between the two parties becomes increasingly tens it might be the Industrials and not the Republicans who quit the coalition.
It should be noted that individually, none of the parties enjoy high ratings.