Georgia's exports worth $281m in January-February 2016
Tuesday, March 15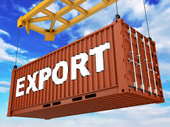 The value of Georgia's exports and imports (External Merchandise Trade) has decreased year-on-year (y/y), claims the National Statistics Office of Georgia (Geostat).
Preliminary data published today showed Georgia's External Merchandise Trade (excluding non-organised trade) amounted to $1.413 million in January-February 2016. This was a two percent drop compared to the same period of 2015.
Furthermore, Geostat said the value of the country's exports decreased 13 percent to $281 million, while imports grew one percent to $1.133 million in January-February 2016.
Georgia's trade deficit equalled $852 million, which made up 60 percent of total trade turnover.
(Agenda.ge)