SOCAR discloses Russian gas procurement volumes
Tuesday, March 15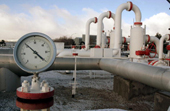 The State Oil Company of the Republic of Azerbaijan (SOCAR) is negotiating with the Russian Gazprom company and Iran to purchase three billion cubic meters of gas annually, Rovnag Abdullayev, SOCAR president, told reporters March 14.
"There is still interest in purchasing Russian gas," he said. "We conveyed our suggestion to Gazprom. We need gas for injecting into the reservoirs at the Azeri-Chirag-Guneshli block of fields to maintain stable oil production.
"Secondly, we plan to inject additional volumes of gas into Azerbaijani underground gas storage facilities to fully make use of them," he said. "The capacity of gas storage facilities hits around five billion cubic meters. As a pilot project, we want to test the maximum capacity."
Currently, Gazprom has a contract on purchasing Azerbaijani gas. The document was signed Oct.14, 2009 with the possibility of extension. The contract between SOCAR and Russia's Gazprom allows the suspension and resumption of gas supplies at any time.
He also said that SOCAR is negotiating with Iran about the swap of seasonal supplies.
"Iran has much unused gas during summer," he said. "The talks are being held about pumping Iranian gas into Azerbaijani gas storage facilities and providing the northern provinces of Iran with gas in winter. At present, experts are discussing technical issues."
The need for gas imports is due to the fact that today, almost a quarter of all the gas produced at the Azeri-Chirag-Guneshli block of fields is pumped back into the reservoir to maintain pressure.
However, gas consumption greatly increased in Azerbaijan over the past two years.
The gas extracted at the Shah Deniz, is contracted for its supply to Georgia and Turkey.
In this regard, a gas swap with Gazprom will allow Azerbaijan to further ensure gas supply to southern regions of Russia, to test out its gas storage facilities, as well as, in case of a consistently high level of injection into them, to reduce the volume of extraction of associated gas at the ACG, and to pump it to the maximum extent to reservoirs to increase oil output at the block.
Abdullayev also touched upon the issue of using gas at power plants.
"The energy system of Azerbaijan is so diversified that it can use both gas and black oil as fuel," the head of SOCAR said. "However, due to the fact that black oil prices fell on the global oil market, it has become more profitable to use it more than gas. We carry out our economic operations in a way to maintain maximum profitability at low prices."
The generation capacity of Azerbaijan's power supply system has increased over the last five years. Currently, its capacity is 7,129 megawatt. This allows it to generate around 24 billion kilowatt hours of electricity and export 2.1 billion kilowatt hours of electricity annually.
(Trend.az)