Special day for children with Down syndrome
By Messenger Staff
Tuesday, March 15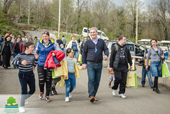 Georgia's Minister of Environment Gigla Agulashvili and the head of the United Nations (UN) in Georgia, Niels Scott, have hosted Georgian children with Down syndrome in the Prometheus Caves, one of the most impressive touristic sites in west Georgia.
The Georgian and foreign officials participated in the occasion with their own children and came away with high impressions of the children with Down syndrome.
The children could not hide their enjoyment when viewing the site.
Down syndrome, also known as trisomy 21, is a genetic disorder caused by the presence of all or part of a third copy of chromosome 21. It is typically associated with physical growth delays, characteristic facial features, and mild to moderate intellectual disability. The average IQ of a young adult with Down syndrome is 50, equivalent to the mental age of an 8- or 9-year-old child, but this can vary widely.
It is welcome that such events are becoming more and more frequent in Georgia, as Georgians still need to be made aware of challenges people with special needs face.
Such events also help people with Down syndrome to feel included with society.
In previous years, it was even hard for the parents of such children to freely walk in the street without abuse.
More support and raising public awareness of such issues is the best precondition of an integral, democratic society.