EU keen to import Georgian wool
Monday, March 21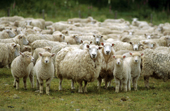 Georgian wool is the first product of animal origin that will soon be exported to the European Union (EU) market, bringing financial benefits for farmers and the opportunity to grow the national economy.
Two Georgian companies, Georgian Wool and the Georgian Wool Company, received permission from the EU to export raw [unwashed] wool to European markets, which cater for more than 800 million people.
Great Britain and Germany have already expressed interest in importing Georgian wool, said www.Eugeorgia.info, a website that provides information about issues related to the Association Agreement and the Deep and Comprehensive Free Trade Area deal, which Georgia signed with the EU in June 2014.
The National Food Agency of Georgia said the state "did everything" it could to get permission to export Georgian wool to the EU.
"The EU proved it has great confidence in our country, its control systems, the National Food Agency and two Georgian companies. We are obliged to check these companies twice a year to see how they meet EU standards and the requirements and recommendations," said the deputy head of the National Food Agency, Mikheil Sokhadze.
As of today, Georgian Wool and the Georgian Wool Company export wool to India, Ukraine and China.
Rules and regulations for importing wool as an animal product are set forth in the EU Directives N 142/2011 and 97/78.
To import raw wool into the EU from a third country such as Georgia, relevant and high standards must be in place in the producing nation. The wool producer or exporting enterprise must be registered with the National Food Agency, which is designed to guarantee that the animals (sheep, in this particular case) do not show signs of contagious diseases.
Other requirement the wool producers and exporters should meet are:
• To ensure safe and dry packaging for wool; and
• To send wool directly to the plant that uses it in production, to prevent the spreading of pathogenic agents.
The Shepherds Association of Georgia reported 266,000 live sheep were exported from Georgia in 2009, 178,000 in 2010, 155,000 in 2011, and 170,000 in 2012.
Georgian shepherds claimed the number of sheep exported in 2014 reached 220,000, of which 70,000 originated from Armenia.
Eugeorgia.info said between 80 and 85 percent of all sheep in Georgia were Tushetian, the most ancient Georgian breed that emerged in the 13-14 Centuries as a result of traditional selective breeding.
Imeretian sheep are reared in western Georgia and make up 10-15 percent of all sheep in the country.
(Agenda.ge)