Turkey and EU reach landmark deal on refugees
Monday, March 21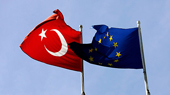 Turkey and the EU have reached a controversial deal that European leaders hope will stop the flow of refugees to the continent in return for political and financial concessions for Ankara, foreign media says.
Turkish Prime Minister Ahmet Davutoglu and EU President Donald Tusk confirmed the agreement, which will come into force on Sunday, at a press conference in Brussels after three rounds of talks.
"Refugees, migrants, asylum seekers who are arriving in Greece, on the islands or the mainland ... will find themselves subject to processing and then, in due course, they will be sent back to Turkey," Al Jazeera's Neave Barker reported from the Belgian capital.
The accord aims to close the main route by which a million people poured across the Aegean Sea to Greece in the last year before marching north to Germany and Sweden.
But deep doubts remain about whether it is legal or workable, a point acknowledged even by German Chancellor Angela Merkel who has been the key driving force behind the agreement.
"I have no illusions that what we agreed today will be accompanied by further setbacks. There are big legal challenges that we must now overcome," Merkel said after the 28 EU leaders concluded the deal with Davutoglu.
Leaders of the bloc had agreed on Thursday on a common plan under which Turkey would be given financial and political concessions in return for taking back all refugees who reached Greek islands off its coast.
Under the agreement, Ankara would take back all refugees and others, including Syrians, who cross to Greece illegally across the sea. In return, the EU would take in thousands of Syrian refugees directly from Turkey and reward it with more money, early visa-free travel and faster progress in EU membership talks.
(IPN)