Azerbaijan, Lithuania sign agreement on cargo transportation
Tuesday, April 5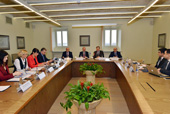 ADY Express LLC, which is engaged in multimodal cargo transportation in Azerbaijan, and the Lithuanian Railways JSC have signed an agreement in Vilnius on cargo transportation between the two countries, head of the press-service of the Azerbaijan Railways CJSC Nadir Azmammadov told Trend Apr. 4.
He said that the agreement provides for creation of a regulatory framework, defines obligations and rules for granting discounts and mutual payments for cargo transportation between Azerbaijan and Lithuania.
"The agreement will create conditions for expansion of cooperation opportunities in the field of transport and increase of the volumes of transit cargo between the two countries," said Azmammadov.
The document was signed bythe general director of the Lithuanian Railways JSC, Stasys Dailydka, and director of ADY Express LLC Azad Gasimov within the framework of the meeting of Azerbaijani and Lithuanian senior representatives in railway sphere in Vilnius.
Deputy Director General of the Lithuanian Railways JSC Stasys Gudvalis and Deputy Chairman of the Azerbaijan Railways CJSC Igbal Huseynov also took part in the meeting.
"The sides discussed Azerbaijan's participation in the Viking railway project, as well as the prospects of increasing the volumes of cargo transportation within the framework of the project," Azmammadov said.
The combined transport train 'Viking' started running in 2003. Participants of the project are Ukraine, Belarus, Lithuania, Latvia, and, since 2012, Bulgaria. The total length of the Ilyichevsk (Ukraine)-Minsk (Belarus)-Draugyste (Lithuania) route is 1,766 kilometers.
In September 2015, the Ukrainian Railways JSC announced about the possibility of cargo transportation by train from China to Europe. The corresponding protocol was signed during the meeting of heads of railways of Kazakhstan, Azerbaijan, Georgia and Ukraine on the formation of competitive tariff conditions for cargo transportation in Asia-Europe-Asia direction September 11, 2015 in Odessa city.
In February 2016, Ukraine and Lithuania signed a memorandum on the accession of the Viking container train to the Trans-Caspian International Transport Route from Europe to China through Azerbaijan and Kazakhstan.
(Trend.az)