Shuakhevi Hydro Power Plant to open in 2017
Tuesday, April 12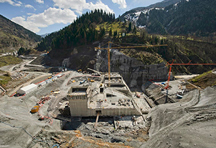 From summer 2017, the Shuakhevi Hydro Power Plant (HPP) will be fully operational, helping Georgia tap into its hydropower potential and achieve energy self-sufficiency.
As of today, 75 percent of construction work has been completed. Works at the power station are due to be fully completed by autumn 2016, according to the press office of Georgia's Prime Minister today.
The Shuakhevi HPP is a run-of-the-river plant currently under construction in Georgia's Adjara region. Construction on the project began in 2013.
The HPP is expected to produce 450 gigawatt (GW) hours of power annually and reduce greenhouse gas emissions by more than 200,000 tonnes per year.
Last year several international financial institutions teamed up to help Georgia build the Shuakhevi HPP by investing $400 million USD in the construction and operation of the power plant.
The last phase of construction was financed by Adjaristsqali Georgia – a joint venture between India's Tata Power and Norway's Clean Energy Invest (40 percent each), and the remaining 20 percent by the International Finance Corporation (IFC).
Adjaristsqali Georgia was a special purpose vehicle set up to develop hydropower resources on the Adjaristsqali River and its tributaries in Adjara, in south-western Georgia.
The $250 million debt financing arranged by IFC represented the largest-ever private hydropower investment in Georgia, consisting of two $90 million long-term senior loans; one from the Asian Development Bank (ADB) and the European Bank for Reconstruction and Development (EBRD), and $70 million from IFC.
IFC's total investment in this project is $104 million, which includes a $34 million equity investment in the project company.
The Shuakhevi HPP aimed to satisfy Georgia's electricity demand during winter, reducing dependence on imported fuel and increase renewable energy output. It will also foster cross-border electricity trading at other times of the year by exporting electricity to Turkey through a transmission line financed by EBRD. The project was designed to benefit local communities by creating jobs, boosting municipal incomes and upgrading local roads.
The Shuakhevi project is the first hydropower project in Georgia certified by the United Nations Framework Convention on Climate Change for carbon emission reductions.
(Agenda.ge)