Georgia Says Signed Deal with Gazprom Keeping Existing Transit Terms
Tuesday, April 12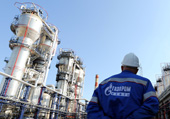 Georgia and Russia's state energy giant Gazprom have signed a deal to extend the gas transit agreement under the long-standing terms involving paying Tbilisi 10% of all Russian gas transported to Armenia via Georgia, the Georgian Energy Ministry said.
"We have the same terms, the same length of contract," Mariam Valishvili, the Deputy Energy Minister said, adding that the contract is undergoing internal procedures in the Georgian government necessary to bring it into force.
"Terms of the agreement between [the state-owned] Georgian Gas Transportation Company and Gazprom Export are unchanged – transit fee remains 10% of transported gas and the length of contract is before the end of the year," she added.
Gazprom wanted to monetize the transit fee and pay cash, instead of 10% of all gas transported through Georgia. While initially Tbilisi appeared to be yielding to Gazprom's demands, after securing additional gas suppliesfrom Azerbaijan, Georgian Energy Minister Kakha Kaladze announced in early March that after the new deal with Azerbaijan, Georgia found itself in "a stronger position" to insist on keeping the existing transit terms with Gazprom.
(Civil.ge)