PM says Georgia can become centre of trade and logistics
By Messenger Staff
Tuesday, April 12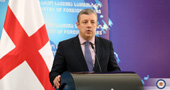 Prime Minister Giorgi Kvirikashvili has given an interview to the CCTV Chinese TV company, where the Georgian top official referred to the new Silk Road Project and the importance of free trade with China.
According to the Georgian PM, Georgia has a large-scale plan of infrastructural modernization that will increase its competitiveness if implemented. According to him, the Chinese President's initiative ' One Belt, One Road' offers new opportunities to the countries that are involved in the project.
'This initiative is very important for us. It offers a lot of new opportunities to countries along the Silk Road,' Kvirikashvili has said. 'We consider restoration of the new Silk Road economic belt as a network uniting several routes. Here we mean competitiveness, contacts among people and infrastructural modernization,' he said.
According to the PM, Georgia can become a centre of trade and logistics that will promote the development of trade between European and Asian countries.
"From our point of view, electronic platforms are an important space where information about our projects is available for investors - including Chinese investors - increasing visibility of all countries along the Silk Road as well," Kvirikashvili said.
The economy is one of the most essential downfalls for every successive Georgian government. No Georgian authorities managed to significantly improve living conditions in Georgia, and so poverty still remains one of the biggest problems facing the country.
If the current government and the future government act reasonably, Georgia can very successfully use its geographic location and provide better prospects for economic growth.
It is very important, as first of all voters look at their existing conditions and situations when standing before the ballot boxes.
If a government wishes to prolong its stay in power, it should definitely address economic and social issues.