Azerbaijani gas not rival for Russia
Tuesday, May 31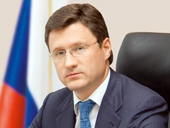 Russian Energy Minister: Even though TAP is realized, Europe will need Russian gas.
TAP is incapable of competing with transportation of Russian gas to Southern Europe, Russian Energy Minister Alexander Novak said on May 27, APA reports.
"The volume of gas to be transported via TAP to Europe is not so large. It amounts to 10 billion cubic meters of gas which will be delivered to Europe in 2019. Therefore, European consumers need a much larger volume of gas," the minister said.
Novak also noted that Greece and Italy need Russian gas even TAP is realized.
(News.Az)