Carbamide plant construction in Georgia postponed
Tuesday, June 14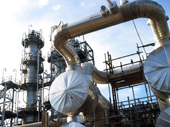 Construction of a carbamide plant in Georgia is not planned, Georgian Deputy Energy Minister Mariam Valishvili told Trend.
Earlier, the State Oil Company of Azerbaijan (SOCAR) was planning to build a carbamide plant in the Kulevi free industrial zone in Georgia.
But in 2015, construction was stopped due to a change in the energy market conditions.
It was originally planned to supply 500 million cubic meters of gas a year to the carbamide plant, said Valishvili.
"Now, however, the consumption of gas in Georgia is growing, and there are no free volumes for the carbamide plant," she explained. "We have no gas, and that is why we have decided that construction of the plant makes no sense."
Valishvili believes it will be possible to resume the negotiations on the carbamide plant in 2019-2020, when the second phase starts in the development of Azerbaijan's Shah Deniz gas field and additional volumes of gas are supplied to the market.
"Then it will be possible to review the project taking into account whether the supplies in necessary volumes will be possible and what the price for gas will be," said the deputy minister. "But for now it is out of question."
She also said that gas should be delivered at a special discounted price to the carbamide plant for its profitability.
In case if the carbamide plant is built, majority of its output will be exported as there is no need for great amount of carbamide in the domestic market of Georgia, said Valishvili.
"It is unlikely that the Georgian government will invest in this project on its own, since it doesn't have such an opportunity," she added. "In addition, it isn't reasonable for Georgia to invest in a project designed for the foreign market."
(Trend.az)