Landslide-hit Georgia-Russia road to reopen in two weeks
Monday, June 27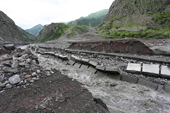 Georgia's First Vice President, Economic Minister Dimitry Kumsishvili, believes it will take about two weeks to rebuild a section of road that was swept away by a mudslide in northern Georgia last week.
Kumsishvili told journalists the state budget would fund the road restoration using special funds put aside specifically for the recovery and management from natural disasters.
"The resources have been mobilised. Our state budget covers any expenses associated with handling a natural disaster," the Minister said.
"It will take us about 10 days or two weeks to reconstruct the road section that has been swept away."
A landslide fell in the Devdoraki Gorge in northern Georgia and blocked the road and a checkpoint at the Georgia-Russia border at the end of last week.
Experts from the National Agency of Environment of Georgia carried out a control flight in the area and suggested that due to recent heavy rainfall, a solid mass of land that had settled in the Devdoraki River following a major landslide in 2014 became unstable and started moving. It reached the area where the Devdoraki River joins the Tergi River and blocked the river.
This caused the Tergi River to back up and forge a new route, which completely swept away an 800m section of the Mtskheta-Stepantsminda-Larsi Rd (Georgian Military Highway) near the Devdoraki glacier.
Georgia's Road Department said all vehicles were banned from moving along the 134-135km section of this road. This meant the only road linking Georgia and Russia was temporarily closed.
The Road Department also said it was now waiting for permission from the National Agency of Environment to begin works to reconstruct the damaged road.
Early warning systems were in place and sounded an alarm immediate before and during the disaster. This early detection meant the National Agency of Environment was able to send immediate emergency signals to other state agencies about the impending landslide shortly before it hit, and to quickly evacuate people from the danger area.
(Agenda.ge)