Ruling party election list soon
By Messenger Staff
Monday, June 27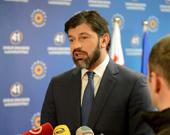 "Everything is ready, we have made decisions on our majoritarian candidates and the proportional list; all this will become public in the near future," Vice Prime Minister, Energy Minister, and Georgian Dream Secretary General Kakha Kaladze has stated.
"The election campaign will be officially launched in the near future. We will present an election list and our majoritarian candidates. All this will be a part of the election campaign," he said.
The lineup of the ruling Georgian Dream-Democratic Georgia (GDDG) team will be interesting, as this year the party participates in the elections alone without its former allies of the Georgian Dream coalition.
The Georgian Dream coalition was established for the 2012 parliamentary elections and consisted of the GDDG, the Republican Party, the Free Democrats, the Conservatives, the People's Party, the National Forum and the Industrials.
The coalition managed to defeat the nine-year governance of the United National Movement (UNM).
Now, the GDDG party states it will take part in the elections alone, and party members believe they will definitely win the race.
However, compared to the 2012-2013 rating of the coalition (and of the main party) is significantly lower according to the polls.
There are certain members within the coalition and the GDDG party who have disappointed the public due to their irresponsible actions and statements.
As with many other parties, prior to the elections, the GDDG also promises a renewed team.
When asked about the elections list of the GDDG in 2012, party founder Bidzina Ivanishvili stated on multiple occasions "there was not a big choice or enough time to search for very distinguished candidates for the list", which was why there were so many sportsmen, actors and other unqualified people in the legislative body.
Now the GDDG has more time to prepare, and it is in dire need of a renewed team, as many of their faces will not be supported by the public, which will damage the party's chances of eventual victory.