64% of tourists are satisfied with visiting Georgia's Adjara region
Tuesday, July 12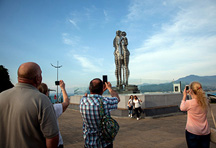 A majority of tourists are satisfied with their stay in Georgia's Black Sea Adjara region, intend to revisit and recommend others to discover the beauty of Adjara.
The Government of Autonomous Republic of Adjara published the information on the level of satisfaction of tourists' who visited Adjara between August-September, 2015.
The data from 1,000 respondents analysed how happy the tourists were by visiting different places in Adjara.
About 36 percent of the respondents were from Turkey, 16 percent, from Armenia, 16 percent from Azerbaijan and seven percent from Russia.
Tourists aged 15 years or more participated in the research. The average age group of the respondents was 36 years, while 65 percent of the tourists were male.
The level of happiness a person gained while travelling around Adjara varied; 64 percent of tourists said they were "very satisfied", 28.6 percent were "satisfied", 0.4 percent were "dissatisfied" and 0.2 percent were "very dissatisfied".
Furthermore, five percent of tourists said they were neither satisfied nor dissatisfied and 0.6 percent said they could not answer the question.
More than 90 percent of the tourists were delighted to revisit Adjara, however 1.5 percent did not want to visit the region again.
The research revealed that 58 percent of the tourists were visiting the Adjara region for the first time.
Mostly people travelled in Adjara together with their friends (37.4 percent) and with family (34.2 percent). Only 23.7 percent visited Adjara alone and 4.7 percent with their colleagues.
On average, tourists used stayed four nights in Adjara between August-September 2015.
Only 26.80 percent of the tourists booked accommodation in advance, while 73.20 percent found a place to stay after arriving in Adjara.
Why do people visit Adjara?
Recreation, vacationing and entertaining were the most common reasons for travelling in the Adjara region in the reported period, showed the figures.
The reasons for travel included:
• Beaches and entertainment - 44.1 percent;
• Discovering nature - 37.3 percent;
• Transit - 6.3 percent;
• Visiting friends/relatives - 5.9 percent;
• Camping – 1.1 percent;
• Sport events - 1 percent;
• Other – 4.3 percent
How did tourists learn about Adjara?
The tourists found out about Adjara region from their friends and relatives. They said this was the most reliable source of information about the Georgian region. Also, they said their own experience encouraged them to visit Adjara again.
The figures showed tourists learnt about Adjara from:
• Friends and relatives – 64.9 percent;
• Their own experiences from previous visits - 25.4 percent;
• TV/Radio – 11.3 percent;
• Former Georgian citizen – 7.6 percent;
• Internet – 4.3 percent;
• Print media – 2.1 percent;
• Touristic company/tour operator – 2.1 percent;
• www.tripadvisor.com – 1.9 percent;
• Touristic information centre – 1.5 percent;
• Flyers, booklets and maps printed and distributed by the Government of Georgia – 1 percent.
(Agenda.ge)